Welcome
The Official Web Site of Allen Toussaint
Come in and enjoy the life and music of Allen Toussaint. You are about to experience one of the music world's treasures. The Southern Knight has led a surge of music that spans five decades. Collaborations with / Songs covered by Elvis Costello, The Rolling Stones, Patti Labelle, The Who, The Band, Paul McCartney, Aaron Neville, Dr. John, Jerry Garcia, Phish, Plant / Krauss and scores of others.
The Toussaint Family Continue to Thank You For All The Love And Support & Please Check Back Regularly to See The New Things To Come To Keep The Spirit and Music Of Allen Toussaint Living!

Allen Toussaint & Lou Johnson

Music Playing: The Beat

The Allen Toussaint Band with Special Guest will be Performaing A Tribute to Allen Toussaint at The New Orleans Jazz & Heritage Festuval May 5, 2019
"My music is homegrown from the garden of
New Orleans. Music is everything to me short of breathing.
Music also has a role to lift you up - not to be escapist but to
take you out of misery" -Allen Toussaint
"He was such an influential songwriter and performer," Jagger tweeted!

"I don't want y'all thinkin' 'this is just some old legend that passed away' naw," Questlove, founding member of the hip-hop group The Roots, wrote on Instagram.
"This dude wrote some of your favorite music & you just didn't know it."
Toussaint's influence is woven through popular music and hip-hop, he wrote.
"At least 12 'Get Out My Life Woman' snares were like starch in hip hop's daily nutritional chart -- meaning so there you barely notice it," Questlove wrote.
"I'm still in shock and heartbroken after hearing of the news of the passing of my longtime friend, brother in music, teacher, mentor and most gentle person you'll ever meet, Allen Toussaint. He was a true musical treasure and legend that New Orleans shared with the world. Thank you Allen for all the music, good times and the legacy you leave behind for everyone to continue to enjoy. Rest in Peace. Peace & Love," Art "Poppa Funk" Neville
"Music lovers around the world today are mourning the passing of the legendary Allen Toussaint. He was one of the architects of rhythm and blues; a writer of many of America's most well-known and beloved early rock and roll songs. I had the pleasure of hosting him at the Aspen Songwriters Festival some years ago and was honored to be able to perform with him and witness his inspired one man show. Sending love to his family and friends around the world - he will be missed by millions but his music will never die." - John Oates
I am heartbroken by the passing of Allen Toussaint. His music and talent forever defined NOLAs unique cultural heritage. You will be missed. Mitch Landrieu (@MayorLandrieu) November 10, 2015
Supriya and I are saddened by the passing of musician Allen Toussaint. New Orleans has lost a legend - — Gov. Bobby Jindal (@BobbyJindal)
"Probably no city's contribution to American popular music has been more distinctive than New Orleans'," longtime Washington Post rock critic Richard Harrington once wrote,
"and Toussaint, as prolific songwriter, arranger and producer, has been a key shaper of its legacy."
The Rock Hall described Toussaint as "a producer, bandleader, arranger, songwriter, session musician and all-around musical eminence."
The Hall added that "although he was inducted in the 'nonperformer' category, Toussaint is a talented pianist and performer who has recorded under his own name."
We have lost a giant. Elegant, soft-spoken–and a musical Matterhorn. RIP Allen Toussaint. https://t.co/gvGkoGgYbX -

Harry Shearer (@theharryshearer) November 10, 2015

RIP Allen Toussaint https://t.co/KgwlCKCpWx— The Rolling Stones (@RollingStones) November 10, 2015

This morning I learned of Allen Toussaint's passing. We have lost a Titan, legend and kind soul. #RestInLove pic.twitter.com/dR1NkyYsZi

— Dee Dee Bridgewater (@ddbprods) November 10, 2015
JULY 2013: Allen Toussaint To Be Awarded National Medal Of Arts By President Obama
Allen Toussaint will be awarded a National Medal of Arts by President Obama at the White House on July 10, 2013, with the First Lady also in attendance. In addition to Allen, this year's recipients are George Lucas, Herb Alpert, Renée Fleming, Lin Arison, Joan Myers Brown, Ernest Gaines, Ellsworth Kelly, Tony Kushner, Elaine May, Laurie Olin, and Washington Performing Arts Society. Below is Allen's award citation which will be read at the ceremony:
"Allen Toussaint for his contributions as a composer, producer, and performer. Born and raised in New Orleans, Mr. Toussaint has built a legendary career alongside America's finest musicians, sustaining his city's rich tradition of rhythm and blues and lifting it to the national stage."
(see The White House Press Release)
see links below for more info
Allen Toussaint & Ernest Gaines
Ladies & Gentlemen Dr. Allen Toussaint
May 18, 2013 Allen Toussaint along with Dr. John, received honorary doctorate of fine arts, Natasha Trethewey, the United States poet laureate and winner of the Pulitzer Prize for poetry and His Holiness the 14th Dalai Lama received doctor of humane letters. Congratulation to The Southern Knight!
see more picture in visual music
A Tribute To The Southern Knight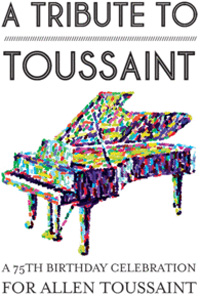 Allen Toussaint's 75th Birthday Tribute Concert & Benefit Features All-Star Line-Up
Elvis Costello, Dr. John, Art Neville, Irma Thomas, Cyril Neville, Deacon John, Rosebud artist, Jon Clearyand more will perform at "Tribute to Toussaint," a benefit concert and tribute to Allen Toussaint celebrating his 75th birthday as well as his legacy and influence as a songwriter, performer, and producer. The event will be held at Harrah's Theater in New Orleans on April 30, 2013 at 8:30pm. Proceeds from the event will benefit New Orleans Artists Against Hunger & Homelessness, a non-profit organization that Toussaint co-founded with Aaron Neville in 1985. Toussaint has a history of working or performing with each of the artists involved in the tribute over the course of his long and highly influential career which includes multiple Grammy nominations and a Grammy Trustees Award, as well as induction into the Rock and Roll Hall of Fame, the Blues Hall of Fame, and the Louisiana Music Hall of Fame. Toussaint himself is also expected to perform at the event where LAE Productions and WLAE-TV will be filming for their upcoming documentary about Toussaint. For more information and to purchase tickets, please visit noaahh.org.
The Southern Knight Becomes A Doctor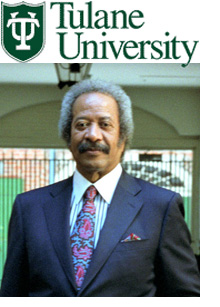 Allen Toussaint To Receive Honorary Doctorate From Tulane University
Allen Toussaint will receive an honorary doctorate degree of Fine Arts at Tulane University's commencement ceremony on May 18th, 2013. Others receiving honorary degrees at this year's ceremony include Dr. John, The Dalai Lama and Pulitzer Prize winner, Natasha Trethewey. His Holiness The Dalai Lama will give the keynote address at the commencement ceremony which will take place at the Mercedes-Benz Superdome.
The Honorary Doctorate Award is the highest award that Tulane University confers, and it is given "to individuals who have distinguished themselves through extraordinary achievements" and to "recognize outstanding civic engagement that advances Tulane, New Orleans, the Gulf Coast or the world." Some of Toussaint's past accolades include induction into the Rock and Roll Hall of Fame, Blues Hall of Fame, and Louisiana Music Hall of Fame; multiple GRAMMY nominations, and a GRAMMY Trustees Award. Actively touring the US and abroad, Toussaint continues his influential work and efforts to spread the musical culture of New Orleans.
Official Announcement by Tulane University >>
Elton John about Allen Toussaint
"when I meet someone like Allen Toussaint - that for me is like meeting, you know, someone the equivalent of the Dalai Lama because for me, he influenced the way I played the piano, he's a historical part of rock and roll."
- Elton John on Elvis Costello's Spectacle
ALLEN TOUSSAINT IS INDUCTED INTO THE SONGWRITERS HALL OF FAME
At a star-studded gala at the Marriott Marquis Hotel in New York on Thursday night, legendary singer/pianist/songwriter and record producer Allen Toussaint was inducted into the prestigious Songwriters Hall Of Fame.
Veteran rock star Boz Scaggs walked out on stage and sang "Hercules", Allen's timeless parable about survival in the modern world which had been a highlight of Boz's fourth Columbia album "Slow Dancer" back in 1974. Mr. Toussaint then joined him on stage to accompany on piano as Boz sang "Hello My Lover", another of Allen's songs which he'd previously recorded but which had started out life on a 1960 single by the late Ernie K-Doe.
The Scaggs/Toussaint set then finished with the two of them duetting on "What Do You Want The Girl To Do", one of the standout songs from Allen's landmark 1975Reprise album "Southern Nights".
Boz then officially presented Allen with his Award and the SRO audience rose to their feet and applauded in heartfelt appreciation.
Page 3 of 4
Member Login To Leave A Message