Welcome
The Official Web Site of Allen Toussaint
Come in and enjoy the life and music of Allen Toussaint. You are about to experience one of the music world's treasures. The Southern Knight has led a surge of music that spans five decades. Collaborations with / Songs covered by Elvis Costello, The Rolling Stones, Patti Labelle, The Who, The Band, Paul McCartney, Aaron Neville, Dr. John, Jerry Garcia, Phish, Plant / Krauss and scores of others.
Allen Toussaint
Music Playing: In Your Love
Album: Connected (1996)
HAPPY BRITHDAY TO THE MAESTRO
JANUARY 14

ALLEN TOUSSAINT DAY IN THE CITY OF NEW ORLEANS
"I don't want y'all thinkin' 'this is just some old legend that passed away' naw," Questlove, founding member of the hip-hop group The Roots, wrote on Instagram.
"This dude wrote some of your favorite music & you just didn't know it."
Toussaint's influence is woven through popular music and hip-hop, he wrote.
"At least 12 'Get Out My Life Woman' snares were like starch in hip hop's daily nutritional chart -- meaning so there you barely notice it," Questlove wrote.
WWOZ's Two-Part Allen Toussaint Special, Thursday, January 14
"Allen Toussaint Day"
Allen Toussaint at Jazz Fest 2005 [Photo by Leon Morris]
Last week, the New Orleans City Council unanimously passed a resolution declaring Thursday, January 14 to be 'Allen Toussaint Day' in the city of New Orleans. On what would have been his 78th birthday, the whole city will celebrate one of the finest musical ambassadors New Orleans ever had.
As part of the celebration, WWOZ is airing two back-to-back episodes of New Orleans Calling, paying tribute to Allen, starting at 2p. Part One, featuring the story of Allen Toussaint in his own words, is also available for online streaming now at neworleanscalling.org. Part Two features the voices of his collaborators and friends, including Irma Thomas, the Meters, and others, and will become available online after it airs on Thursday.
Toussaint passed away unexpectedly while on tour in Spain on November 10, 2015. A stirring and emotional tribute to his life happened at the Orpheum Theater on Friday, November 20 with performances and words from many of his talented friends, including Cyril Neville, Deacon John, Irma Thomas, John Boutte, Boz Scaggs, Davell Crawford, Jimmy Buffett, Elvis Costello, and more.
Listen to WWOZ: http://www.wwoz.org/blog/408536
Tap Jazz Fest Banner For Line Up!
Allen Toussaint Performs Sunday April 26, 2015.
Come out and enjoy the music of the Southern Knight and all the Amazing Talent at The New Orleans Jazz & Heritage Festival!
Allen Toussaint receiving the Medal of Honor for the Arts from President Obama July 10, 2013 at the White House
President awards Louisiana artists
BY JORDAN BLUM

Advocate Washington bureau

July 11, 2013

President Barack Obama on Wednesday bestowed prestigious National Medal of Arts to famed New Orleans musician Allen Toussaint, Louisiana author Ernest J. Gaines, and Lake Charles-raised playwright and "Lincoln" screenwriter Tony Kushner.

"Star Wars" creator George Lucas was among nine others also honored in White House ceremonies.

Obama called it a special treat to honor all the musicians, writers, directors, artists and others who have inspired him and the rest of the nation.

"Frankly, this is just fun for me, because I feel like I know you all because I've enjoyed your performances," Obama said. "Your writings have fundamentally changed me — I think for the better."

Obama singled out Gaines, 80, who is best known for his novels "A Lesson Before Dying" and "The Autobiography of Miss Jane Pittman," along with singer and pianist Toussaint, 75, for their inspirations.

"Somebody like Allen Toussaint, who is being honored here for his incredible contributions to the rhythm and blues and jazz music of his beloved New Orleans," Obama said. "After his hometown was battered by Katrina and Allen was forced to evacuate, he did something even more important for his city — he went back. And since then, Allen has devoted his musical talent to lifting up and building up a city. And today, he's taking the stage all over the world, with all kinds of incredible talent, doing everything he can to revive the legendary soul of the Big Easy."

Obama then praised Gaines for rising up and thriving after being born into a sharecropper family on a plantation in Pointe Coupee Parish.

"He did not let that define his future. Instead, he took that experience and used it to help fill in gaps in American literature with the stories of African-American life," Obama said. "And then, Ernest moved back to Louisiana, onto the very same land he and his family had once worked. And he spent more than 20 years teaching college students to find their own voices and reclaiming some of the stories of their own families and their own lives."

Afterward, Toussaint called the day historic and said that getting the Medal of Arts from the president was the greatest award he could receive.

"I'm so glad that America treats its own in such fine fashion," Toussaint said. "It's absolutely wonderful. And the president and the first lady as hosts, they are impeccable."

"Me being from Louisiana, I feel all of where I'm from wherever I am," he added. "As I was there receiving my award, I was thinking of New Orleans and Louisiana, etcetera."

Although Toussaint, Gaines and Kushner had never met before Wednesday, Toussaint said it is "wonderful" for multiple people with state ties to receive recognition and get a chance to learn more about each other. "When the saints go marching in, here we are," he said.

Kushner, 56, grew up in Louisiana and graduated from Lake Charles High School. He is a Pulitzer Prize winner for his play "Angels in America," and has been nominated for an Academy Award this year for his screenplay for "Lincoln." Kushner first met Obama last year when he visited the White House for a private screening.

"Out of any award I've ever gotten, this is the most meaningful by far," Kushner said of the Medal of Arts. "It's thrilling for me to be honored by the government of my country and that it's a national award means a lot.

"I'm incredibly thrilled to be honored by President Obama, who I consider to be one of our genuinely great presidents. Other than Abraham Lincoln, I can't think of another president I'd rather receive a medal from," Kushner added.

Kushner also spoke fondly of growing up in Lake Charles.

"It was a great blessing to grow up in Louisiana, and I think it heightened my awareness of the beauty of the world because it's such a beautiful place," he said. "I love the people I grew up with. I think being a Southern writer had an enormous impact on the way that I speak and the kind of lyricism that I aspire to."

Kushner said he also was influenced by growing up in the state during the civil-rights era and witnessing school integration and busing.

"I got to see the federal government in action, and I got to see that you can mandate certain social transformation and that people can surprise themselves with how much more advanced they are than they actually realize," Kushner said.

The National Endowment for the Arts was established by the Congress in 1965 as an independent agency of the federal government. The endowment has awarded more than $4 billion to support artistic excellence, creativity and innovation for the benefit of individuals and communities
JULY 2013: Allen Toussaint To Be Awarded National Medal Of Arts By President Obama
Allen Toussaint will be awarded a National Medal of Arts by President Obama at the White House on July 10, 2013, with the First Lady also in attendance. In addition to Allen, this year's recipients are George Lucas, Herb Alpert, Renée Fleming, Lin Arison, Joan Myers Brown, Ernest Gaines, Ellsworth Kelly, Tony Kushner, Elaine May, Laurie Olin, and Washington Performing Arts Society. Below is Allen's award citation which will be read at the ceremony:
"Allen Toussaint for his contributions as a composer, producer, and performer. Born and raised in New Orleans, Mr. Toussaint has built a legendary career alongside America's finest musicians, sustaining his city's rich tradition of rhythm and blues and lifting it to the national stage."
(see The White House Press Release)
see links below for more info
Allen Toussaint & Ernest Gaines
Ladies & Gentlemen Dr. Allen Toussaint
May 18, 2013 Allen Toussaint along with Dr. John, received honorary doctorate of fine arts, Natasha Trethewey, the United States poet laureate and winner of the Pulitzer Prize for poetry and His Holiness the 14th Dalai Lama received doctor of humane letters. Congratulation to The Southern Knight!
see more picture in visual music
A Tribute To The Southern Knight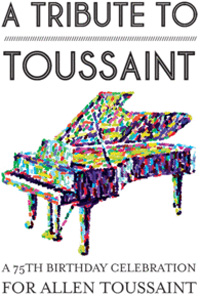 Allen Toussaint's 75th Birthday Tribute Concert & Benefit Features All-Star Line-Up
Elvis Costello, Dr. John, Art Neville, Irma Thomas, Cyril Neville, Deacon John, Rosebud artist, Jon Clearyand more will perform at "Tribute to Toussaint," a benefit concert and tribute to Allen Toussaint celebrating his 75th birthday as well as his legacy and influence as a songwriter, performer, and producer. The event will be held at Harrah's Theater in New Orleans on April 30, 2013 at 8:30pm. Proceeds from the event will benefit New Orleans Artists Against Hunger & Homelessness, a non-profit organization that Toussaint co-founded with Aaron Neville in 1985. Toussaint has a history of working or performing with each of the artists involved in the tribute over the course of his long and highly influential career which includes multiple Grammy nominations and a Grammy Trustees Award, as well as induction into the Rock and Roll Hall of Fame, the Blues Hall of Fame, and the Louisiana Music Hall of Fame. Toussaint himself is also expected to perform at the event where LAE Productions and WLAE-TV will be filming for their upcoming documentary about Toussaint. For more information and to purchase tickets, please visit noaahh.org.
The Southern Knight Becomes A Doctor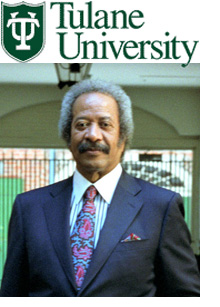 Allen Toussaint To Receive Honorary Doctorate From Tulane University
Allen Toussaint will receive an honorary doctorate degree of Fine Arts at Tulane University's commencement ceremony on May 18th, 2013. Others receiving honorary degrees at this year's ceremony include Dr. John, The Dalai Lama and Pulitzer Prize winner, Natasha Trethewey. His Holiness The Dalai Lama will give the keynote address at the commencement ceremony which will take place at the Mercedes-Benz Superdome.
The Honorary Doctorate Award is the highest award that Tulane University confers, and it is given "to individuals who have distinguished themselves through extraordinary achievements" and to "recognize outstanding civic engagement that advances Tulane, New Orleans, the Gulf Coast or the world." Some of Toussaint's past accolades include induction into the Rock and Roll Hall of Fame, Blues Hall of Fame, and Louisiana Music Hall of Fame; multiple GRAMMY nominations, and a GRAMMY Trustees Award. Actively touring the US and abroad, Toussaint continues his influential work and efforts to spread the musical culture of New Orleans.
Official Announcement by Tulane University >>
Elton John about Allen Toussaint
"when I meet someone like Allen Toussaint - that for me is like meeting, you know, someone the equivalent of the Dalai Lama because for me, he influenced the way I played the piano, he's a historical part of rock and roll."
- Elton John on Elvis Costello's Spectacle
Page 2 of 3
Member Login To Leave A Message
Allen Toussaint, Hot 8 Brass Band as well as Jay Z, Macklemore, Lamar among Grammy nominees

Among the New Orleans musicians receiving nominations were Allen Toussaint, who received two Grammy nominations, the Hot 8 Brass Band, trumpeter Terence Blanchard, as well as PJ Morton and...

Read More...

The House With 88 Keys

A New Orleans music legend recalls his childhood piano and the love-filled 'shotgun' house where he grew up. Allen Toussaint, 75, has written dozens of hits—including "Southern...

Read More...

The Song Book

Allen Toussaint's SONG BOOK

Allen Toussaint's New Live Solo Album/DVD, Songbook, Allen Toussaint will release, Songbook, a live solo album and DVD on...

Read More...